Steam Stop Valves (AVW Type)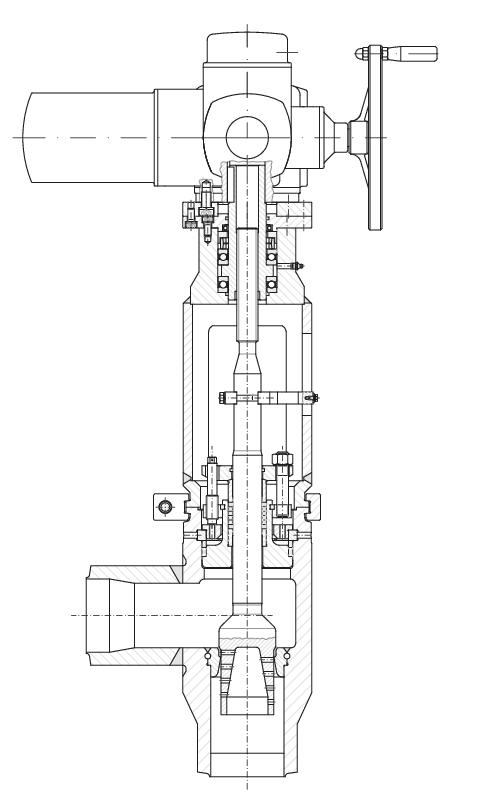 Application
Steam Stop Valves of AVW type are applied for highest values of pressure, temperature and mass flow capacities. Steam control valves are used as pressure isolating valves in all types of the industry where piping has to be 100 % free of steam.
Design and Function
The valve body has horizontal inlet connections firmly welded, whereas the seat and the joined conical widening are removable. The valve stem with its plug as well as the cone are made in one piece. The stem is pivoted vibration-free between a bush in the valve cover and another bush in the valve seat. Cover and valve are fastened together by a clamping device which facilitates assembly.
The noise level is kept low by the special design of the internal parts. The pulse from the control unit causes the valve drive to change position of valve cone. The gap between the seat and the cone allows the medium to flow. The valve opens against the pressure of the medium. A complete seal in the closed position is secured.
Technical Data
– Throttling plug for low differential pressure
– Single- or multi-stage trim
– customised
– acc. to DIN / EN Standard; other on request
Nominal size: DN50 – DN600 / NPS 2″ – 24″, other on request
Pressure rating: PN160 – 720 / Class 900 – 4500, other on request
Pressure difference: all pressure differences, high pressure difference with multi-stage valve type
Characteristic: on – off; regulating on request
Flow direction: flow to close; flow to open on request
Design: forged steel-welding construction, angle-, globe-, z-type
Connections: welding ends, flanges
Actuators: manual, electric, pneumatic, hydraulic
Materials
All materials are according to DIN or ANSI / ASTM. For the main parts of our valves we use standard material as listed below or according to our customer specifications.
| | | |
| --- | --- | --- |
| No. | DIN | ASTM |
| 1.0460 | C22.8 | A105 |
| 1.4541 | X6CrNiTi18-10 | |
| 1.4571 | X6CrNiMoTi17-12-2 | |
| 1.4903 | X10CrMoVNb9-1 | A182 F91 |
| 1.4922 | X20CrMoV12-1 | |
| 1.5415 | 16Mo3 | a182 F1 |
| 1.7335 | 13CrMo4-5 | A182 F1 |
| 1.7380 | 10CrMo9-10 | A182 F22 |
Address
Armaturen Union GmbH
Erkrather Straße 401
D-40231 Düsseldorf
Germany